ebook
CYBERSECURITY


TOP 10
10 Common Pain Points & the Path to Solving Them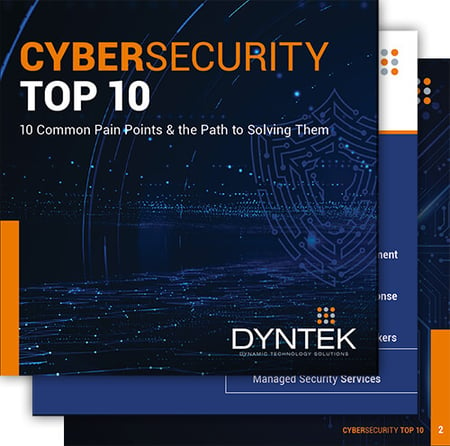 Cybersecurity continues to be a growing concern for most businesses.
"The global average total cost of a data breach in 2020 was $3.86 million and the average time to identify and contain a data breach was 280 days."1
Frightening numbers. What can you do to protect your business? Where do you start?
In this eBook we outline the what, why, and who of 10 of your biggest cyber-headaches and the concrete solutions that can relieve the pain.

WHAT'S COVERED:
Vulnerability Assessments
Penetration Testing
Endpoint Protection Platforms
Endpoint Detection & Response
Remote Access VPN (SSL)
Secure Web Gateways
Secure Email Gateways
Identity & Access Management
Network Detection & Response
Cloud Access Security Broker
(BONUS) Managed Services
1 IBM Security Cost of a Data Breach Report 2020.
ABOUT DYNTEK
DynTek is a national systems integrator, risk management partner, and expert technology consultant serving government, healthcare, education, and commercial organizations. We focus on delivering cloud, on-premise, and hybrid solutions that drive outcomes that you define. Our broad range of technical expertise and vendor partnerships allow us to deliver technology solutions that support a digital business transformation framework.