5 min read
How Microsoft Cloud Solution Providers Operate
By: DynTek on Nov 13, 2023 9:30:00 AM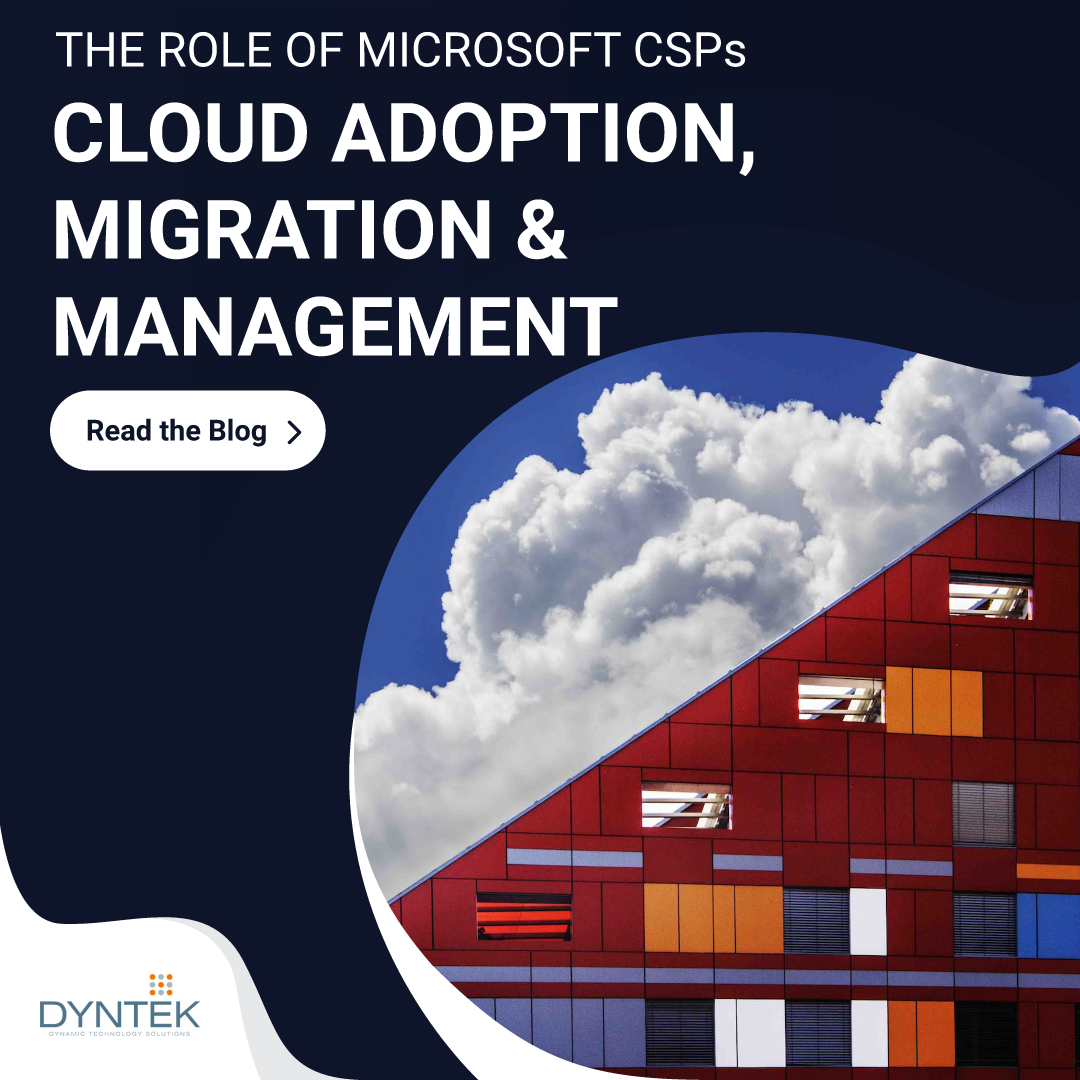 Microsoft Cloud Solution Providers (CSPs) are the cornerstone of many businesses' digital transformation efforts. Use this guide for a comprehensive insight into the role of a Microsoft CSP, and how they facilitate cloud adoption, migration, and management with various Microsoft products.
What Is a Cloud Solution Provider?
Microsoft Cloud Solution Providers are partners that help organizations adopt and get the most out of Microsoft cloud services like Microsoft 365, Azure, Dynamics 365, and Power Platform. As an integral part of Microsoft's Cloud Solution Provider Program, CSPs act as an extension of a customer's IT team, providing planning, deployment, management, support, and optimization of Microsoft cloud solutions.
These providers play a pivotal role in helping organizations leverage Microsoft's cloud offerings to drive innovation, reduce costs, and enhance their overall IT infrastructure. As licensed Microsoft partners, CSPs have expertise in Microsoft technologies and serve as a single point of contact for cloud services. Rather than purchasing directly from Microsoft, customers can procure licenses and subscriptions through CSP partners.
The Importance of Cloud Solution Providers in Digital Transformation
CSPs play a critical role in enabling organizations to transform digitally. As trusted advisors, they analyze an organization's needs, design solutions leveraging Microsoft's cloud platforms, migrate workloads, integrate systems, provide training and change management, and offer ongoing support.
This end-to-end guidance accelerates cloud adoption, removes IT burdens, and allows customers to focus on core business objectives and innovation. By applying a CSP's expertise and following best practices for their digital strategy, leaders can grow their business and increase customer value.
How CSPs Operate
Microsoft CSP partners offer a range of specialized services around Microsoft cloud platforms, including:
1. Simplified Cloud Adoption
Microsoft CSPs make the process of adopting cloud solutions straightforward for organizations, regardless of their size or industry. Here's how:
Expert Guidance – CSPs have a team of experts who understand the intricacies of Microsoft's cloud services. They provide valuable insights into how these services can benefit a specific organization and help in selecting the right solutions to meet its needs.
Licensing and Pricing Assistance – Managing licenses and understanding pricing models for cloud services can be complex. CSPs simplify this by offering customized licensing solutions, allowing organizations to pay for only what they use.
Provisioning and Onboarding – CSPs handle the provisioning and onboarding process, ensuring a smooth transition to the cloud. They assist in setting up accounts, configuring services, and ensuring everything is in compliance with security and governance requirements.
2. Streamlining Cloud Migration
Migrating existing systems and data to the cloud can be daunting. Microsoft CSPs play a significant role in streamlining this process, ensuring minimal disruption and data loss. They offer the following benefits:
Assessment and Planning – CSPs conduct thorough assessments of an organization's existing infrastructure to develop a migration plan that best suits its needs. This includes selecting the right migration strategy, whether it's rehosting, refactoring, rearchitecting, or reimagining.
Data Migration – The safe transfer of data is a crucial part of cloud migration. CSPs use tools and best practices to migrate data to Microsoft Azure or Microsoft 365 with minimal downtime and data loss.
Post-Migration Support – After migration, CSPs provide ongoing support to monitor the cloud environment, optimize resources, and address any issues that may arise. This ensures a seamless transition to the cloud.
3. Efficient Cloud Management
Once an organization is operating in the cloud, effective management is essential for maximizing the benefits and ensuring security and compliance. Microsoft CSPs offer the following services for efficient cloud management:
Monitoring and Optimization – CSPs employ monitoring tools to track resource usage, performance, and costs. They use this data to optimize resource allocation and control costs.
Security and Compliance – Cloud security is a top concern for organizations. CSPs implement security best practices and help organizations remain compliant with regulations like GDPR, HIPAA, and more.
Troubleshooting and Support – If issues or challenges arise, CSPs provide rapid troubleshooting and support, minimizing downtime and disruptions.
Benefits of Collaborating With a Microsoft CSP
Partnering with a Microsoft CSP provides many advantages:
Faster, smoother cloud migration and adoption

Reduced IT workload through managed cloud services

Improved ROI on Microsoft technology investments

Enhanced operational efficiency, productivity, and collaboration

Access to technical experts for planning through operations

Ongoing optimization and innovation as needs evolve

Potential Drawbacks and challenges to consider
While CSPs offer significant benefits, also consider:
Migration and change management temporarily impacting productivity

Employees needing training on new cloud tools and processes

Additional vendor management overhead if working with multiple CSPs

Potential costs of custom application development or complex integrations
With careful planning and a strategic long-term approach, organizations can mitigate these challenges.
Opting for the Right Microsoft Cloud Solution Provider
When evaluating CSPs, consider their technical expertise, service capabilities, industry specializations, customer success, certifications, and tools for cloud management and monitoring.
Look for CSPs with a proven track record of Microsoft deployments in your industry with robust security, experienced engineers and architects, and demonstrated ROI and customer satisfaction.
Key Takeaways
Microsoft Cloud Solution Providers (CSPs) are partners that assist organizations in adopting and optimizing Microsoft cloud services, serving as a single point of contact for licenses and subscriptions.
CSPs play a crucial role in enabling digital transformation and streamlining cloud migration by conducting assessments and providing post-migration support, ensuring a smooth transition to the cloud. They also offer efficient cloud management services, including monitoring, security, compliance, troubleshooting, and support.
DynTek Is Your Leading Microsoft Solutions Provider
Increase your business productivity and start your digital transformation journey with DynTek, a trusted Microsoft Solutions Partner and Cloud Solution Provider.
As a Direct Tier 1 Microsoft Cloud Solution Provider (CSP), DynTek can directly license, manage and support the full range of Microsoft cloud services to include Azure, Office 365, Microsoft 365, Enterprise Mobility Suite, Teams, Dynamics, SharePoint, and much more. In addition, we support varied client licensing models: Commercial (E licensing), Education (A licensing), Government GCC (G licensing), and Not-for-Profit.
DynTek ensures that your Microsoft cloud engagement provides the most value by:
Staging your rollout and licensing as a "Just in Time" model so you only pay for what you rollout and use

Providing you with access to funding for rollouts, customer adoption, and training because of our Tier 1 Partnership status

Providing you with trial licenses for all Microsoft program options

Providing you with an Azure instance that is connected directly to your AD infrastructure to ease provisioning and governance and simplify billing

Escalated support

Enabling monthly or annual billing to suit your individual needs
DynTek has access to dedicated Microsoft in-product tools to directly provision, manage, and support your subscription. We combine these powerful Microsoft tools with our own robust products and services, to provide you with one powerful program.
Focusing on IT Security, Digital Infrastructure, Modern Workplace, Data Center, and Cloud solutions, we provide exceptional professional IT consulting services, end-to-end IT solutions, and managed services. Our team of experts have the industry and technology expertise to provide you with the solutions you need.