Join DynTek, a Microsoft Gold Partner, for this dive into the essential functions, benefits, and capabilities of Microsoft Azure Sentinel, as well as the core security and compliance capabilities in Microsoft 365 and Azure.
M
ICROSOFT SECURITY,
COMPLIANCE AND IDENTITY WORKSHOPS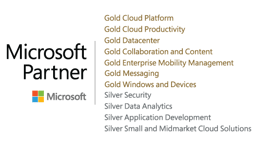 Contact us today to see if you qualify for one of our fully funded security or compliance workshops that will help you understand how to accelerate your security journey using the latest tools from Microsoft. Our broad range of hands-on workshops include:
Microsoft Security Workshop

Microsoft Compliance Workshop

Security + Azure Sentinel Workshop

Endpoint Management Workshop

Identity Workshop




CLICK HERE to learn more about the workshops or contact us at marketing@dyntek.com to get started.