DynTek + Cisco -- YOUR FUTURE, FASTER
DynTek leverages its Cisco Gold Partner status to deliver advanced networking, security, data center, collaboration, and communications solutions that support our clients' key business initiatives.
From The Data Center To The Device
We have deep expertise in Cisco products, solutions and architectures. Whether you're looking to simplify your data center architecture with Cisco UCS servers or just make conference calls more efficient with Unified Communications, DynTek's principal architects have vast Cisco product and service knowledge that we use to design solutions to fit your needs.
Together, DynTek & Cisco mold solutions that facilitate the connectivity, collaboration and data management that power today's mobile workstyles and communication needs.
The Cisco Experience
Our certifications, understanding of adjacent and competitive technologies, technical acumen, industry knowledge, innovation, financial stability, and customer-first perspective enable our team to support your Cisco initiatives of any size and across the full product stack.
DynTek/Cisco Innovation Lab
Within our Lab environment, DynTek conducts tests and proof-of-concepts of other solutions that integrate with Cisco's solutions to architect comprehensive solutions that extend the value of the platform. For example, we have integrated an automated assistant that can make video calls to the Cisco video phones, print badges, validate IDs and check in/out our guests. In addition, DynTek has architected a solution that integrates Amazon Echo and Apple HomePod with the Cisco Telepresence platform. The solution enables fast and easy launch of the Telepresence system and meeting controls. As a further innovation, DynTek has developed a custom mobile application that incorporates blue dot wayfinding. The app enables guests to automatically connect to wireless upon entry to the office and facility-wide navigation.
Cisco At A Glance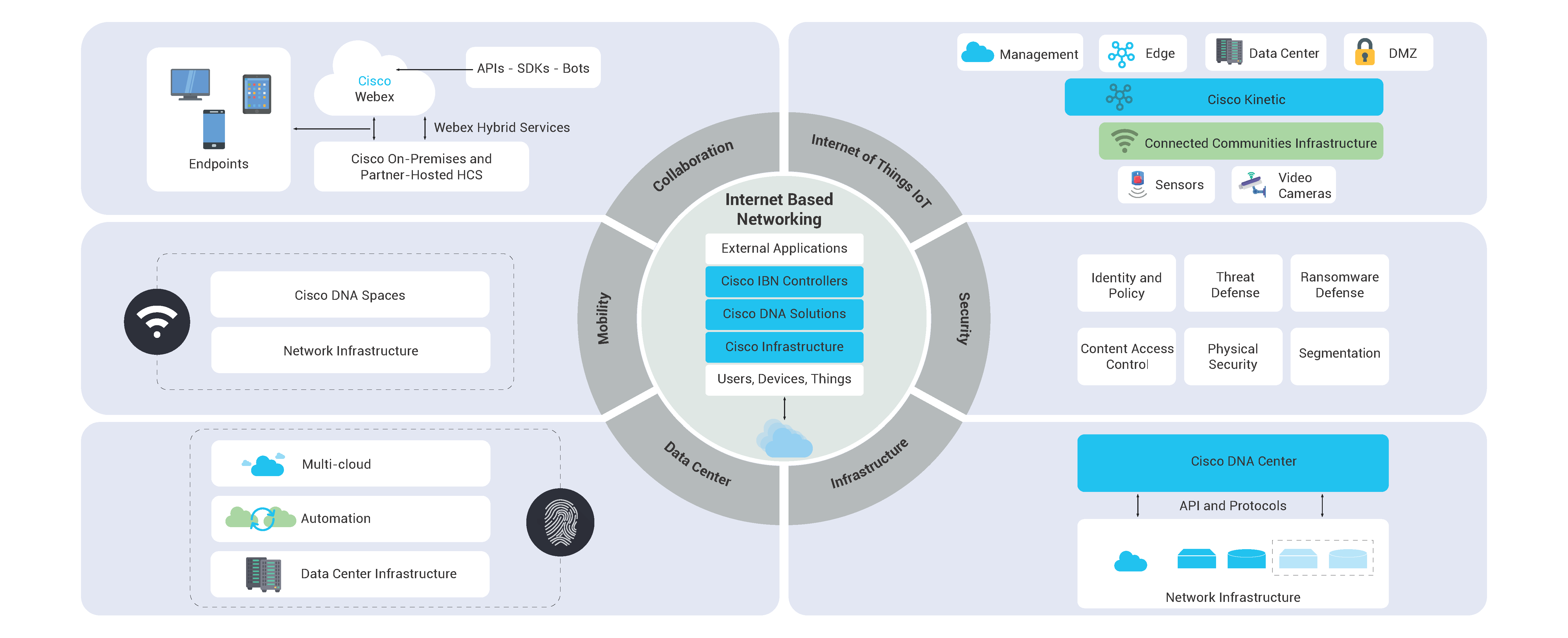 Smart Cities: A Practical Approach to Start Your Digital Journey
From waste management and lighting to public safety and parking, when cities undergo a digital transformation it literally changes the way we live, work and play. With Smart Cities/ IoT a 'when, not if, initiative', IT departments and city agencies have to start planning now for this transformation.
We invite you to this on-demand webinar featuring Michael Sherwood, Director of Technology & Innovation for the City of Las Vegas, as he covers the practical steps you can take now to start your digital journey.
Wise Investments: Building an IoT Futureproof Foundation
IoT and Analytics: Unifying Your City Data
Citizen Experience: City of Las Vegas IoT Initiatives
Learn more about smart city initiatives in Las Vegas here.
Cisco Security
Today's cybersecurity experts use up to 50 vendors to protect their networks. Multiple vendors and multiple products lead to needless complexity. And to gaps in threat defense. Cisco security products work together. They deliver effective network security and incident response. And they boost IT productivity through automation.
Visibility and Segmentation for the Digital Network
Massive network growth is skewing visibility. Security teams are struggling to secure assets and traffic they simply can't see. These dangerous network blind spots give attackers too many places to hide. Cisco's solutions for visibility and segmentation enable enterprises to take their networks back from attackers. With Cisco Stealthwatch, Identity Services Engine (ISE), and TrustSec technology, organizations can:
See more of their environment with pervasive network visibility
Provide secure access to resources without letting attackers in
More effectively enforce security policies across the network
Protect critical assets with software-defined segmentation
Cisco's solutions work together for a more seamless approach to network security. Learn how they can safeguard and enable today's growing digital networks.