Smartphones that tell you when the next bus will arrive. Augmented reality apps that provide step by step directions and admissions fees to attractions by holding your phone to posted icons. Driverless vehicles synchronized to traffic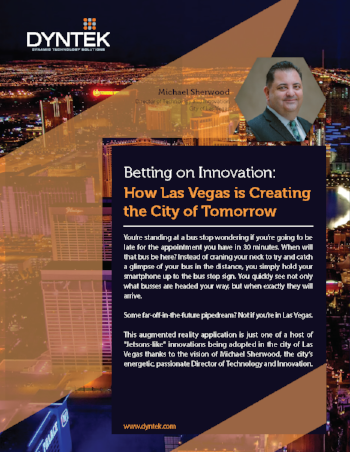 lights shuttling passengers back and forth.
Some far off future world? Not quite. It's all reality in Las Vegas. And what's happening in Las Vegas won't be staying in Las Vegas for long. It's just the first of many "smart cities" projected to pop up all over the world in the next decade.
Inspired by the vision of Michael Sherwood, the city's energetic Director of Technology and Innovation, Las Vegas is at the forefront of smart city innovation. It was one of 78 cities that applied for the Department of Transportation's 2016 Smart City Challenge – a program that requested mid-sized cities to develop ideas for an "integrated, first-of-its-kind smart transportation system that would use data, applications, and technology to help people and goods move more quickly, cheaply, and efficiently."
Sherwood is working hard to make Las Vegas the city of choice in the growing competition for people and companies.
"Cities are in competition with one another for municipal space," he says. "We are constantly asking how we can attract the best businesses and residents. Decisions often come down to who has the best infrastructure, the lowest cost of living, and the best services."
Always innovating
Sherwood and his team are not stopping at transportation when it comes to innovation. They are looking at implementing Amazon Echo-like capability where citizens can ask specific questions about the city council meeting schedule, identity of city office holders, information on parks and recreation, and information about every restaurant in the city and county.
"These are all types of technologies we're looking to experiment with," says Sherwood. "What makes us different is that we're not afraid to fail. We'll come up with a design and it may not work out completely, but we'll learn from it and take those lessons and apply them to new technologies."
Sherwood is particularly excited about the future development of artificial intelligence and how it can be leveraged to enhance the quality of life for citizens. He sees a day when your smartphone will know who you are and be able to book your restaurant reservation and find you a parking spot. Or when you can tell your smartphone you need a ride to your doctor and a shuttle will pick you up at your door and send your medical information right to the office.
"How do we use artificial intelligence and machine learning to help the citizens of the community in a real, tangible way? That's a question we ask every day," Sherwood says.
Las Vegas and DynTek Partnership
A key part of the city's success has been its partnership with DynTek.
"Any successful project is always a collaboration and a partnership," says Sherwood. "DynTek is a key part of that. They bring expertise to help make our ideas a reality."
Click here to download the full case study and learn how Sherwood and his team are transforming the City of Las Vegas through innovative technology.