A recent article in Forbes called 2020 the Year of the Remote Worker. According to one analysis, almost 40 percent of U.S. full-time workers hold jobs that can be done effectively away from the office. Three out of four respondents to a Gartner survey of 317 CFOs and finance leaders said they will move at least five percent of previously on-site employees to permanent remote positions.[1]
Although the COVID-19 pandemic forced many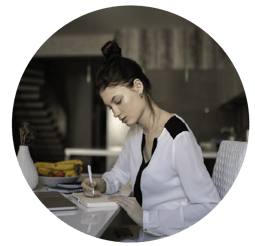 workers into working from home, the advantages of a remote workforce have been evident for a number of years. Employees gain a better work-life balance, more freedom, less stress, and as a result are actually more productive. Businesses save money on office space, become more attractive to prospective employees, and have a wider geographic area from which to draw top talent.
However, leveraging a remote workforce poses some significant challenges. To ensure your distributed workforce is productive and effective, you must support it with easy access to internal systems and software applications, collaboration tools, and streamlined communication channels so they remain engaged.
Just as important is establishing a secure infrastructure in an environment where data is no longer safely contained in one central location behind a reliable firewall. With workers scattered in remote locations, you must make sure you have robust endpoint protection for all devices, access identification protocols, and cloud-delivered firewalls to enable secure processing of data, advanced endpoint detection and response, and next-generation antivirus protection.
The advantages of deploying a remote workforce are too great to pass up. But overcoming the challenges this new reality presents can be overwhelming. DynTek and Cisco have joined forces to implement a Secure Remote Worker solution to help you address those obstacles.
DynTek's IT experts assess your specific needs to enable remote access and are able to help you implement Cisco's advanced security solutions to ensure your IT environment can safely and securely support your remote teams. As a Cisco Gold Partner, DynTek is eminently qualified to provide you with the Cisco products, solutions, and architectures to meet your needs. Click here to learn more about Cisco's Secure Remote Worker – a set of security solutions that allows you to empower your remote workforce.
[1] Remote Work: The Ultimate Equalizer For Talent Acquisition and Employee Experience, by Lynn Kier, Forbes, August 10, 2020.