5 min read
Optimizing Cyber Liability Insurance
By: DynTek on Oct 30, 2023 8:42:14 AM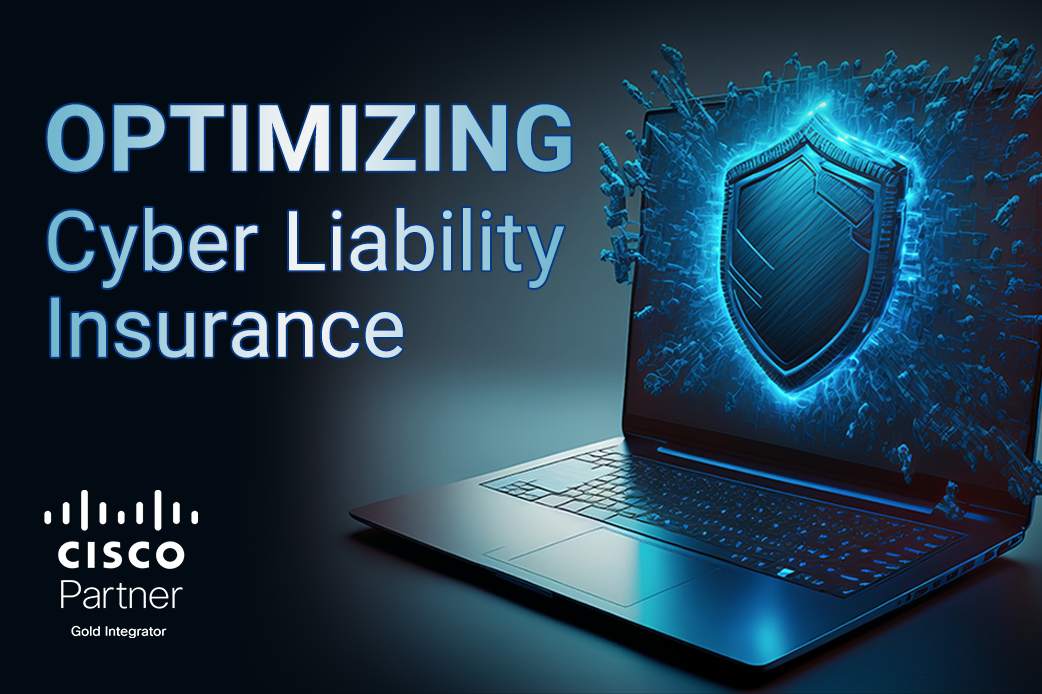 As technology advances, so do the risks associated with cyberthreats. With increasing cyberattacks and data breaches, protecting your business from potential financial losses is essential. One way to safeguard your organization is by obtaining cyber liability insurance.
Explore the importance of cyber insurance in today's digital world and gain valuable insight into understanding, purchasing, and navigating the claims process. Additionally, learn more about the role of cybersecurity solutions like Cisco in optimizing insurance premiums and securing your business against cyberthreats.
The Role of Cyber Liability Insurance
Cyber liability insurance, often simply called cyber insurance, is a type of coverage designed to protect businesses from data breaches, cyberattacks, and other malicious events. It provides financial support to help companies to recover from cyber incidents and mitigate potential damages. Cyber liability insurance coverage can include legal expenses, notification costs, investigation costs, and business interruption losses, among other items.
Cyber Insurance vs. Traditional Insurance
While traditional insurance policies, such as general liability or workers' compensation, may provide some degree of protection against cyberthreats, they are not sufficient to cover all aspects of the broad cyber risks that businesses face today. For instance, a general liability policy may cover losses incurred due to physical property damages but fails to address issues related to data breaches and other cyberattacks.
Do I Need Cybersecurity Insurance?
Cyber risks are an inevitable part of doing business. And unfortunately, small and large businesses, public entities, and individuals are equally potential victims of cyberattacks. Whether you've been victimized or not, being insured is probably in your best interest.
The Growth and Importance of Cyber Insurance in Today's Digital World
As our society becomes increasingly digital, the necessity and value of cyber insurance have never been more evident. From customers' sensitive personal data to an organization's critical infrastructural systems, the consequences of a cyberattack can be severe. By receiving adequate cyber insurance coverage, businesses can protect themselves from the high costs of cyber incidents.
The implications of not having comprehensive cyber liability insurance can be far-reaching, including the risk of closure for small businesses. Even for larger corporations, the potential reputational damage from a data breach is alarming, with consumers becoming more conscious about the security practices of the companies they deal with.
The Push for Cyber Insurance Compliance Regulations
Additionally, recent legislation has highlighted the crucial role of cyber insurance. As cyberthreats become more sophisticated, the need for comprehensive regulation and standards in the cyber insurance market cannot be overstated.
For instance, unlike general liability or workers' compensation policies, cyber insurance policies are not standardized. This means that coverage varies significantly from policy to policy and company to company, making it critical for consumers to thoroughly understand the terms and conditions of their insurance coverage.
These regulations aim to protect consumers and ensure transparency in how insurers handle cyberattack claims. Understanding these rules and their implications is essential for anyone considering this option.
Does your IT department have more tasks than they can manage? DynTek's top-tier partnerships with technology providers can help ease some of your IT issues.

Learn more.
Steps to Take When Purchasing Cyber Liability Insurance
Purchasing cyber liability insurance isn't as straightforward as buying other forms of insurance. Outlined below are key steps you should take when purchasing this cover:
Assessment – Understand your cyber risk profile. This includes the type of information you store and handle, your current security measures, and your vulnerability to cyber threats.
Evaluation – Determine the coverage you need based on your assessment and the potential impact of a cyber event.
Shopping Around – Compare policies from different providers. Look at the inclusions, exclusions, policy limits, deductibles, and premiums.
Third-Party Review – Have the policy reviewed by a knowledgeable third party, such as a cybersecurity professional or an attorney.
Purchasing – Once everything checks out, you can buy your policy with confidence.
Armed with this knowledge, individuals and businesses should find it easier to navigate the world of cyber insurance. Remember, the goal is to protect against potential losses from cyberattacks—not to discover after an event that your coverage was inadequate.
Can Cyber Insurance Replace Cybersecurity Defense?
While cyber insurance provides vital protection, it should not replace cybersecurity defense. It acts as a safety net, providing financial support when things go wrong, while a strong cybersecurity defense can prevent many cyberattacks from happening in the first place.
To illustrate, cyber insurance might pay for the cost of handling a data breach, but it doesn't salvage the reputational damage. Therefore, businesses need a dual approach—investing in cybersecurity defenses to prevent violations and having cyber insurance as a backup in case of a breach.
Optimizing Cyber Insurance Coverage and Premiums through Partnership
While cyber liability insurance is crucial, it does not replace strong cybersecurity measures. Partnering with experts like DynTek and Cisco can help protect your business and its sensitive information from malicious threats, reduce potential damage from a cyberattack, and minimize the need for extensive cyber insurance.
DynTek and Cisco offer various cybersecurity services, including network security, cloud security, and advanced protection. These solutions provide businesses with multiple layers of defense, continually monitoring and tracking potential threats.
When considering cyber insurance to protect your organization in case of a cyberattack, it's crucial to have a comprehensive understanding of your security infrastructure. Cyber insurance carriers typically assess 12 key security controls to determine your premium cost. These controls encompass aspects like multifactor authentication, endpoint detection and response, backups, privileged access management, and more. You can no longer simply check boxes; now, you must provide detailed information and engage in discussions about each control. To secure the best premium rates, you should self-audit and address any deficiencies. Many companies are turning to third-party integrators and managed security service providers like DynTek to help manage and monitor these controls, offering expertise, threat intelligence, and 24/7 coverage while allowing your IT staff to focus on core business activities.
Cisco offers a suite of solutions that align with key security controls crucial for optimizing cyber insurance coverage. Their offerings include Cisco Duo Security for multifactor authentication, Cisco Identity Services Engine (ISE) for privileged access management, and email security with Cisco Email Security and Cisco Umbrella.
Additionally, DynTek and Cisco provide resources for cybersecurity awareness training and phishing testing, real-time threat intelligence and vulnerability management, and incident response services. These solutions help organizations strengthen their cybersecurity posture, potentially reducing risks and qualifying for more favorable insurance premiums.
Our partnership provides an integrated approach to managing and mitigating cyber risks that goes beyond traditional cyber insurance coverage. With a suite of advanced solutions, businesses can gain improved visibility, control, and proactive threat detection. From simplifying your data center architecture with Cisco UCS servers to making conference calls more efficient with Unified Communications, our principal architects have extensive knowledge of Cisco products and services to design solutions tailored to your needs.
Say goodbye to complexity and hello to a unified and streamlined security experience. Contact us today to learn more.