In 2018, there were 503 breaches of healthcare organizations involving 15 million patient records. In the first six months of 2019, that number was surpassed with nearly 25 million patient records breached.[1] Clearly the healthcare industry is under attack by cybercriminals and the onslaught is unlikely to subside anytime soon. Here are six reasons driving healthcare cybersecurity risks.
Dark Web Value
Social security numbers are selling for $1 on the dark web. Driver's licenses cost $20. Credit cards are going for $5-$30. An individual's healthcare data, on the other hand, sells for an average of $50 and can be worth to up to $1,000 if it contains a person's entire database.[2] Unlike stolen credit cards which can be cancelled with a single phone call, medical records live on because they are stored in multiple locations and lack a single control point. This makes them much more valuable than other kinds of personal data.
Data Growth
Like all data in general, healthcare data is going through a period of explosive growth. Thanks to the digitization of healthcare records, healthcare data is expected to grow at a compound rate of 36 percent through 2025.[3]
Expanded Use of Cloud Technology
Organizations in all industries are increasingly transferring data to the cloud and healthcare is no exception. According to HIMSS Analytics Survey, more than eight out of 10 healthcare organizations currently use cloud technology with the average number of workloads deployed in the cloud having doubled in the past year.
Rise of IoT and Connected Devices
The Internet of Things (IoT) has hit the healthcare industry with real-time data being collected and transmitted through the use of wearables and medical devices like insulin pumps and pacemakers. One report estimates that U.S. hospitals currently average 10-15 connected devices per bed.[4]
Advances in Virtual Care
Telehealth, remote patient monitoring, and other virtual healthcare offerings continue to evolve as providers and payers look to deliver care at reduced costs.
Increased Patient Engagement
Patients are increasingly taking more responsibility for their healthcare decisions and that has led to providers implementing portals and other online communication tools to share data with patients online.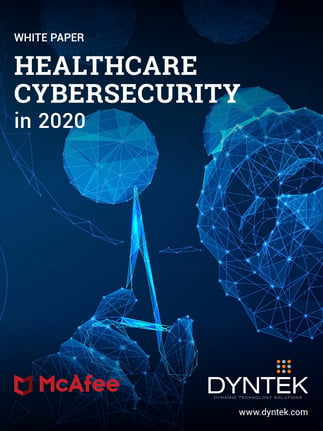 The increased exposure of healthcare data from these areas puts all healthcare organizations at risk, but there are ways to mount a defense against the inevitable attacks. DynTek employs a number of security solutions that can help protect healthcare data. For more information on the risks facing healthcare organizations and ways to defend against them, click here read our latest white paper, Healthcare Cybersecurity 2020: Bringing your security framework to life through best practices.
[1] The 10 Biggest Healthcare Data Breaches of 2019, So Far, by Jessica Davis, HealthIT Security, July 23, 2019.
[2] Here's How Much Your Personal Information Is Selling for on the Dark Web, by Brian Stack, Experian Categories, December 6, 2017.
[3] Top Technology Trends in Healthcare, by Dan Greenfield, Select Hub website, accessed 11/12/19.
[4] Top Technology Trends in Healthcare, by Dan Greenfield, Select Hub website, accessed 11/12/19.