3 min read
Gallant Capital Partners Invests in Cybersecurity Firms DynTek and rSolutions to Support Growth and Innovation; Paul Kerr appointed as CEO of both companies
By: DynTek on Aug 15, 2023 7:10:00 PM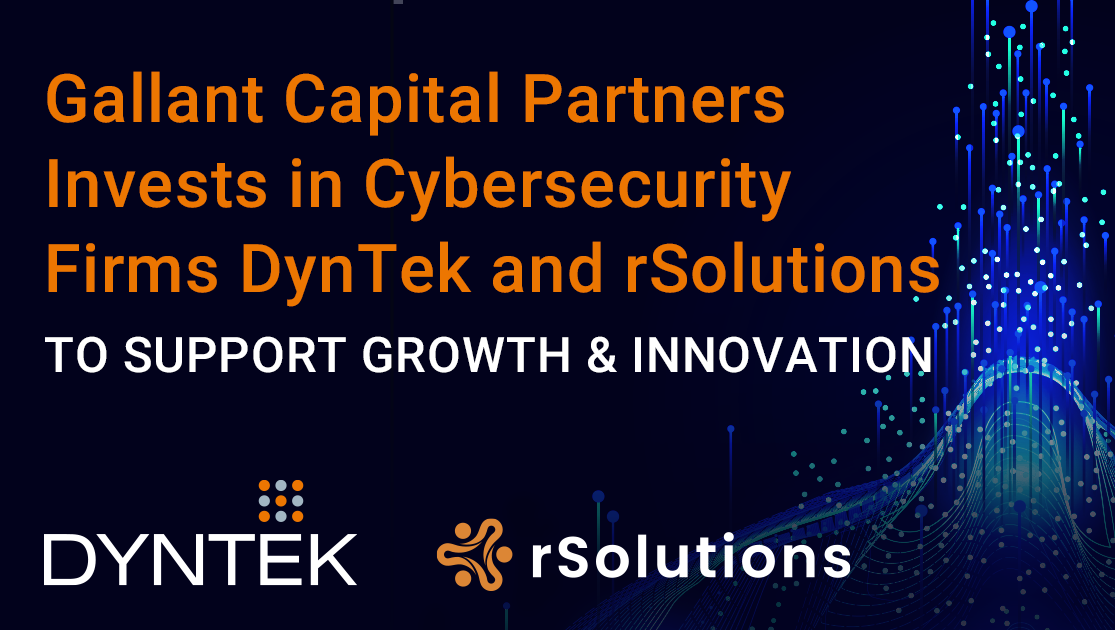 Gallant Capital Partners ("Gallant"), a Los Angeles-based investment firm, announced that it has completed a strategic growth investment in DynTek, Inc. ("DynTek"), a US-based professional IT services, cybersecurity, and risk management organization, and rSolutions Corporation ("rSolutions"), a Canadian-based cybersecurity firm. Gallant's investment in both companies will support accretive growth through further innovation and development of technical offerings and cybersecurity services, operational enhancements that drive customer experience, and strategic acquisitions. Gallant's investment was made in partnership with DynTek CEO Tim Montgomery, rSolutions CEO Richard Baker, and additional sellers and members of both executive leadership teams who collectively will remain material owners of the combined business. This represents the first investment made out of Gallant's second fund, Gallant Capital Partners II.

As part of the investment, Gallant will unify both organizations under a single leadership structure and investment umbrella. The combined entities also announced that Paul Kerr has joined to serve as Chief Executive Officer to execute the combined strategic business goals.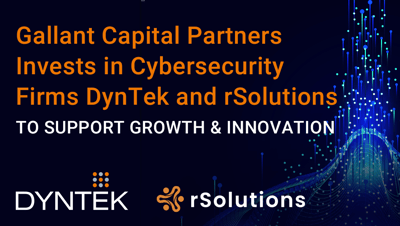 Kerr is a dynamic and seasoned executive with over 25+ years of experience in the information technology industry. Paul founded Scalar Decisions in 2004 and grew Scalar to over C$250M revenue before it was acquired by CDW in 2019. "I'm looking forward to embarking on this new chapter as CEO and working with the teams at DynTek, rSolutions, and Gallant" stated Mr. Kerr.

"With decades of experience, both DynTek and rSolutions have firmly established themselves as market leaders, underlined by enduring client relationships, strategic top-tier partnerships, and an unparalleled team of technical professionals," stated Jon Gimbel, Partner at Gallant. "We are excited to partner with them and Paul to help foster the next phase of accelerated growth for which they are well positioned. Both organizations have developed a distinct market differentiation with state-of-the-art Security Operations Centers, which fortify clients across diverse industries against security threats, enabling them to detect, contain, and swiftly eradicate potential risks. Together, we are set to unlock new opportunities, further market expansion, and continue to drive growth in the high-demand cybersecurity market," added Anthony Guagliano, Partner at Gallant.

"We are thrilled to join forces with Gallant in this transformative partnership, setting the stage for unparalleled growth, development, and an extended footprint in serving our valued clients," said Mr. Montgomery. "The Gallant team brings a tremendous amount of industry, operational, and strategic expertise that will significantly bolster our ability to accelerate our already strong growth trajectory."

"We've been working on this for the past several months and with every passing day the sense of optimism surrounding our team has only grown," said Mr. Baker, CEO and Founder of rSolutions. "We are excited for the opportunities to provide cybersecurity solutions for a broader set of end markets, businesses and individuals through our services, leveraging the great strength of our partners to become a leading Managed Security Services Provider (MSSP) in North America."

DC Advisory served as exclusive financial advisor to Gallant. B. Riley Securities, Inc. served as exclusive financial advisor to DynTek. Royal Bank of Canada, Mid-Market M&A served as exclusive financial advisor to rSolutions.

About DynTek
As a national systems integrator and risk management partner, DynTek delivers exceptional, cost-effective professional IT consulting services, end-to-end IT solutions, managed IT services, and IT product sales to state and local government, educational, healthcare and enterprise customers in the largest IT markets nationwide. Our broad range of technical expertise and vendor partnerships allow us to deliver solutions that support digital business transformation including IT Security, Managed Security Services, Microsoft, Digital Infrastructure, Modern Workplace, Data Center and Cloud solutions. With a team of certified experts, DynTek empowers organizations to achieve their IT goals, drive innovation, and maximize their technology investments. For more information, visit http://www.dyntek.com.

About rSolutions
rSolutions delivers managed cybersecurity services, product sales and cybersecurity professional services to clients in many industry sectors including financial services, telecommunications, energy, government and retail from its owned and operated Security Operations Centres (SOCs) in Canada. rSolutions SOC offers a 24/7/365 fully Managed Security Services including Extended Detection and Response (XDR), Endpoint Detection and Response (EDR), managed Security Information & Event Monitoring (SIEM), Vulnerability Management Program services Security Awareness Training Services. For more information please visit: https://rSolutions.com.

About Gallant Capital Partners
Gallant Capital Partners is a private equity firm that invests in technology, business services, and industrial companies. Gallant executes on an operationally focused investment strategy with a priority on partnering closely with companies that can benefit from its extensive industry relationships and operating expertise. The firm partners with owners, founders, and management teams to maximize value and drive long-term, sustainable growth for its portfolio companies. Gallant was founded in 2018 and is headquartered in Los Angeles. For more information, visit www.gallantcapital.com.