When the subject of technology comes up, most people think of powerhouse private sector companies in Silicon Valley, Research Triangle Park, or Boston's 128 Technology Highway. Few would think of Westchester County, New York. But, in fact, the county IT group there is making huge strides in leveraging technology to improve the experience of interacting with county government.
Leading the charge is John McCaffrey, CIO of Westchester County, recently named as one of the country's top 25 Doers, Dreamers and Drivers for 2017 by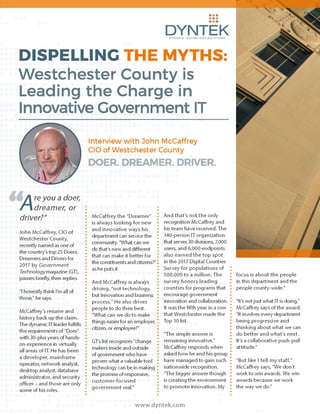 Government Technology magazine (GT). McCaffrey is a dynamic IT leader with 30-plus years of hands-on experience in virtually all areas of IT. He has been a developer, mainframe operator, network analyst, desktop analyst, database administrator, and security officer – and those are only some of his roles.
McCaffrey is always looking for new and innovative ways his department can service the community, not just for the sake of technology but to drive true innovation, improved business processes, and enhanced citizen services.
"What can we do that's new and different that can make it better for the constituents," he says. "What can we do to make things easier for an employer, citizen, or employee."
The efforts of McCaffrey and his 140-person IT organization in serving 30 divisions, 7,000 users, and 6,000 endpoints also earned them the top spot in the 2017 Digital Counties Survey for populations of 500,000 to a million. The survey honors leading counties for programs that encourage government innovation and collaboration. It was the fifth year in a row that Westchester made the Top 10 list.
Though proud of the accolades, that isn't what drives McCaffrey and his team.
"Like I tell my staff," McCaffrey says, "We don't work to win awards. We win awards because we work the way we do."
From service provider to trusted advisor
When McCaffrey became CIO in 2012 he wanted to change the perception of IT as a necessary evil to a trusted partner and advisor. He went about changing that mentality from the top to the bottom of his organization.
McCaffrey strove to develop his workplace into a place of innovation by promoting ideas, delegating tasks, and empowering his people. Major projects the team has taken on include promoting shared services throughout the county, looking at cloud infrastructure, working on disaster recovery and business continuity systems, focusing on cybersecurity solutions, and managing a $30 million county-wide public safety radio system replacement project and a next generation 9-1-1 communications upgrade in 40+ police and public safety agencies.
Leveraging the DynTek partnership
McCaffrey relies on DynTek as a trusted partner as he takes on these ambitious projects.
DynTek has partnered with Westchester County to implement a Citrix App Virtualization and VDI solution, storage, and UCS server infrastructure, and Windows 10, Windows XP migration to Windows 7.
"Sometimes we call DynTek just to get advice," McCaffrey continues. "We ask where we should be looking and know that we have a good resource and partner. They are partners with a number of organizations and they look out and say this is probably the best solution for Westchester. They lay out the good, the bad and the ugly. And I know even there I am going to get reliable, confident and vendor agnostic judgement on what we should do. And then they will make one or two vendor recommendations, some of whom they don't even do business with. I know that, my staff knows that and that's a big piece of why I just look and say DynTek is a trusted adviser, partner, and comes through in a pinch."
To read the full case study and see how Westchester County is dispelling the myths surrounding government IT, click here.