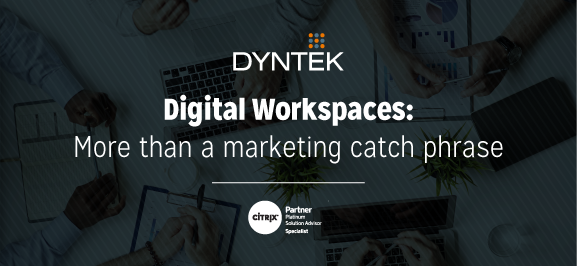 The way we work is evolving. For most of us, that's a good thing. But for IT, the challenge lies in striking a balance between providing users with the freedom to be productive – from anywhere at any time – and ensuring that security and operational integrity is optimized.
Enter the age of the "digital workspace." Like many trends in our industry, this concept has become synonymous with marketing speak. But don't let that prevent you from taking it seriously. Digital workspaces provide clear value – and a more intelligent approach to business at a time when 50% of the U.S. workforce is offsite on at least a partial basis, according to data from GlobalWorkplaceAnalytics.com.
At DynTek, we've been working closely with Citrix, the leading digital workspace platform, to give our customers everything they need to put the right technologies, programs and policies in place, whether work happens on-site, on the road, at home or in the cloud. Here are three takeaways we've learned that will guide you as you implement digital workspaces for your organization:

Competitive Advantages: Digital workspaces provide competitive advantages, empowering businesses to stay relevant in the changing market, while allowing just about everyone in the organization to perform at their best. They give users access to everything they need to be productive in one unified platform, on any device. From an IT standpoint, they simplify the way you manage and secure apps, devices, users and networks so that you can deliver the personalized, digital work experience that your employees demand. And from a user perspective, they enable secure access while also enabling a simple, frictionless experience. Ideally, the solution you choose should offer this functionality:
Support for a wide range of devices and containers
Ease of integration with standard solutions such as Office 365
All apps and data should be available with a single sign-on (SSO)
Aggregated view of tasks and insights in an intelligent feed
Universal search across all files, apps and content
Microapps and virtual assistance to automate repetitive tasks
IT Simplification and Agility: In the early days of off-site working, IT teams faced one challenge after another -- and solutions to those challenges were few and far between. But as it has become clear that the mobile workforce is here to stay, IT has amassed more ways to simplify strategies, integrate platforms and technologies, and quickly adapt to changing needs – without sacrificing security. In fact, today's top-performing digital workspaces are intelligent platforms that provide:

Self-service that makes onboarding new employees faster
Tools that simplify hybrid infrastructure management
Advanced security controls for on-prem and cloud apps
Automated detection of risky or unusual user behavior
The ability to scale out to the extent the business needs, regardless of its size
Bottom-line Business Impacts: The right digital workspace solution will provide these three core business benefits:

Protection – the ability to protect your data and IP by basing security controls on user context, regardless of app, data, device or network; the ability to uncover potentially dangerous anomalies by analyzing user behavior; and integrated predictive analytics, machine learning and artificial intelligence to detect threats and provide actionable information.
Employee experience – today, your most important and expensive asset is your workforce. But that asset is challenged by IT complexities that impact productivity -- including more apps, logins and notifications along with widely dispersed information. A digital workspace eliminates those complexities with secure, easy access to apps and data from a single interface. Users also benefit from intelligent search capabilities, task automation, and a consistent experience across devices.
Break down silos – there is simply no downside to centralizing workspace management. When you break down silos with your digital workspace solution, you allow desktop, mobility, networking, collaboration and security teams to work collaboratively using a common platform. This reduces redundant work, streamlines IT operations and improves the employee experience.
Next Steps
Like any new technology you adopt, moving to a digital workspace model is a transformation. But it's a transformation whose time has clearly arrived. Together with Citrix, DynTek can guide you through the process so that you can transition to a more intelligent approach to today's modern workplace with ease and speed, while giving your users the amazing technology experiences they want.
DynTek has teamed with Citrix to offer digital transformation and modern workplace solutions that ensure confidence without compromise. Ready to learn more?