According to a recent report from Kaspersky Lab, almost half of enterprises that use the cloud lack a clear understanding of where their data resides and so really don't know if it is secure. Security continues to top the list of concerns for organizations who are migrating more of their applications and data to the cloud. There are significant benefits for businesses who leverage cloud resources like those of Microsoft Azure, but securing the data that resides there is critical.
The Kaspersky report points out that many businesses think cloud providers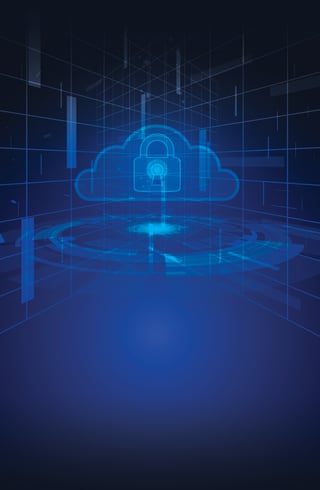 are solely responsible for data security, but the reality is that you are the only one who can truly guarantee your data in the cloud is secure.
Microsoft's four-point approach to data security ensures comprehensive protection of sensitive data throughout the lifecycle – inside and outside the organization.
Detect
Before you can secure your data, you need to know where it is located and the level of security that currently surrounds it. This is more important than ever with fewer boundaries, more data, and more complexity. Your first step is to scan and detect sensitive data based on policy. Next, review your entire security infrastructure to identify weaknesses and vulnerabilities. Focus on total risk management to determine if you are staying ahead of ever- growing threats and have the safeguards in place to prevent your cloud-based data from being breached.
Classify
Once you have located all your data, the next step is to classify and label sensitive data. This evaluation process should be based on the level of sensitivity of each data set and whether the data is used for protection policies or retention policies.
Protect
The protection you choose for each piece of data is based on your policies. Protection may be in the form of encryption, permissions, visual markings, retention, deletion, or a DLP action such as blocking sharing.
Implement a corrective action plan to rectify any security issues you've discovered. Microsoft offers a suite of security tools such as Advanced Threat Analytics, Advanced Data Governance, Azure Information Protection, Threat Intelligence, and Multi-Factor Authentication that can help you plug security gaps in your environment. These tools allow you to analyze incidents that may have occurred, determine root causes, and enable you to develop long term corrective actions to prevent further instances.
Monitor
Finding and correcting security problems is only the beginning. You must constantly be on guard against new threats and ensure that the processes, procedures, and technology solutions you've put in place are being followed and are effective. This requires ongoing monitoring of your security infrastructure, preferably from an independent third party. Report on data sharing, usage, potential and potential abuse. This ensures that the audit you receive will be objective and uncover any issues that may be developing that could jeopardize the security of your environment. This final monitoring step is crucial since threats to the cloud are always evolving and you can never rest in your efforts to protect your data.
DynTek has the expertise and experience to help you protect your cloud-based data. Contact us to learn how our Cloud Secure program can provide solutions such as data encryption, identity and access management, virtual firewalls and other security monitoring capabilities designed to harden your cloud environment.