According to a survey from the Enterprise Strategy Group, nearly half of responding organizations experienced a ransomware attack in the previous 12 months impacting more than five percent of their endpoints. A third of respondents ranked interruptions to standard business operations as the top impact of compromised endpoints.
With the rise of the remote workforce and growing use of mobile devices by Firstline Workers, endpoint security has become a prime focus of IT leaders. The evolving firstline and cyber-threat landscape present serious challenges for IT groups and can have real impact on individuals across your organization. As part of their Firstline Worker initiative, Microsoft continues to develop tools to streamline IT management and extend security protection to all employees, endpoints, and environments.
Here are three ways Microsoft is working to minimize the security risks your Firstline Workers face.
Securing digital identities
The first step in protecting Firstline Workers is to provide them with a secure and easy-to-maintain digital identity. Azure Active Directory Premium protects corporate assets while enabling user productivity with capabilities like single sign-on and self-service password reset.
Windows Hello eliminates password theft by enabling Firstline Workers to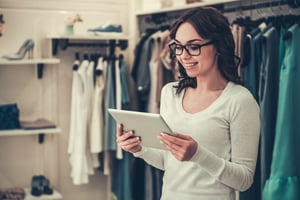 authenticate identities without passwords. Credential Guard protects domain credentials against "pass the hash" attacks that exploit user credentials after users have logged in.
Responding to security threats
Threats to user and organizational security are inevitable, so providing an effective response strategy is critical. Microsoft's Advanced Threat Analytics detects suspicious activity and threats with behavioral analytics, reducing the risk of costly damage from data breaches and other cybercrimes.
Securing devices and apps
Mobile devices have become the go-to tools for many Firstline Workers. Microsoft is working to secure these devices and the apps that run on them in a number of ways. Intune provides flexible mobile device and application management controls to enable Firstline Workers to be productive while protecting company data and information.
Windows Defender Application Control helps prevent malware and untrustworthy apps on devices by leveraging core Device Guard application control capability without special header requirements. Windows Information Protection and Bitlocker secure data on lost or stolen devices and prevents accidental data leaks without degrading the user experience.
These tools allow Firstline Workers to meet evolving workplace regulatory requirements and accelerate GDPR compliance while staying productive and efficient.
Microsoft has built security into all levels of its technology – physical layer, network layer, the infrastructure, and the applications. As part of its mission is to empower Firstline Workers, Microsoft is committed to a security strategy that allows every organization to stay safely connected to achieve more. Contact DynTek to learn how the growing list of Microsoft solutions can help you empower your Firstline Workers.