One out of every two global Fortune 500 companies now use SharePoint. In 22 percent of these organizations, every single employee is using it.[1] There is no questioning the wide-ranging functionality of SharePoint - enterprise search, business intelligence, records management, archiving, intranet/extranet, file sharing to public websites, and document management.
However, running a SharePoint server on premises can be painful. It requires a large infrastructure investment and is difficult and expensive for development and testing, especially true if you've built an extensive VM environment. Many of these issues can be resolved by using Azure for your SharePoint farms. Here are three reasons you should consider this approach.
Rapid Implementation and Scalability
With Azure, you can add infrastructure for your SharePoint servers in minutes, rather than the weeks required for a complex, on-premises installation. You can quickly set up development or test farms and increase your SharePoint deployments by simply adding more resources. Deployment and configuration is easy with ready-to-go images and templates that have been tested and proved effective in real-world scenarios.
Flexibility
If you currently run a VM environment, you can still use Azure. A virtual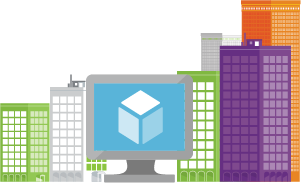 machine running Windows or SQL server is the same as a server running on-premises. You can seamlessly move virtual machines from on-premises physical servers or servers at your hosting providers to Azure. This allows you to rapidly and simply replicate your SharePoint dev-test environments or secondary production sites in Azure then move them back to your physical servers when necessary.
Cost Effectiveness
Building out a hardware infrastructure is not only time consuming, but also expensive. And it gets more expensive as your business grows and you need additional resource capacity. With Azure's IaaS model, you only pay for the resources you use. The per-minute billing pay-as-you go pricing model is a budget-friendly way to pay for your server resources. When testing, you can quickly add servers for scale and load testing for short periods of time and then remove them when you're done, paying only for what you use. You no longer need to build an infrastructure for anticipated peak loads and then have expensive hardware sitting idle during down demand times.
An additional benefit is that since Azure and SharePoint are both Microsoft products, they were built to be work together. This assures you of continuous, reliable performance and enhances collaboration with other cloud-based Microsoft applications like Office 365 and Dynamics CRM Online.
To further explore Azure and use cases, sign up for our Azure Everywhere Workshop.
[1] Why are Fortune 500 companies using SharePoint, by Krish Computsoft Services, February 18, 2015.