Microsoft CEO Satya Nadella believes we are in the middle of a significant change in our world view. He asserts that we are moving from today's mobile-first, cloud-first environment, to a new world that is going to be made up of an intelligent cloud and an intelligent edge.
The intelligent edge refers to an extension of cloud intelligence to edge devices.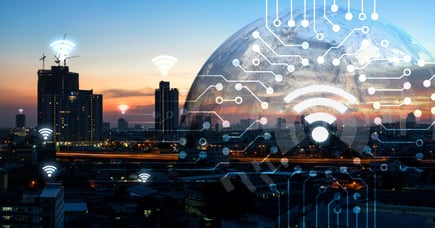 This is providing the ability to run artificial intelligence at the edge, perform edge analytics, deploy IoT solutions from cloud to edge, manage devices centrally from the cloud, operate with offline and intermittent connectivity, enable real time decisions, connect new and legacy devices, and reduce bandwidth costs.
There are three keys driving the rise of the intelligent edge:
Multi-device
The user experience becomes more distributed as individual devices become more powerful. Nadella stresses that it is no longer about developing apps for one device since the user experience is now spread across multiple devices. This requires new abstractions for every piece of hardware that helps developers build out applications. This development has created a need for a seamless experience across all devices, connected or offline.
Artificial Intelligence (AI)
AI is being driven by the explosion of available data. The gravity created by this data growth is pulling computational power toward individual devices wherever it is needed. This requires a fundamental change in the inner and outer loops of what developers do, says Nadella. Data and data analytics are no longer going to be isolated in the cloud. More and more will be sent to the edge to meet immediate needs.
Serverless
The digital and physical worlds are becoming increasingly interwoven. The ability to write logic that's mobile and dynamic is changing how we approach continuous integration and continuous development (CI/CD). In a world where things are more distributed and event driven, developers need to write logic that reacts to these events. Nadella says logic can no longer simply be static - bound and running on one virtual machine in one location. Serverless computation is going to change the economics of back end computing but will also become the core of the future of distributed computing.
According to Nadella, this application paradigm shift of intelligent cloud and intelligent edge is going to pervasively change everything developers do inside of Microsoft's Windows, Office 365, and Azure. Microsoft is building the intelligent edge and making hybrid cloud and IoT solutions a reality with Azure IoT Edge, a fully managed service that delivers cloud intelligence locally. The solution allows you to seamlessly deploy and run artificial intelligence, Azure services, and custom logic directly on cross-platform IoT devices and manage it all centrally in the cloud.
Microsoft continues to develop solutions to empower the intelligent edge. To preview these new tools or to learn more about the intelligent edge, contact DynTek.
Reference: https://www.microsoft.com/en-us/internet-of-things/intelligentedge