On a single summer day in 2015, United Airlines' fleet was grounded because of a glitch in its departure-management system, the New York Stock exchange was forced to suspend trading following an upgrade, the Wall Street Journal's website crashed, and Seattle's 911 system went down when a router failed.[1]
This bad-letter day illustrates the importance software plays in our daily lives. Software now controls virtually every aspect of our day-to day existence so it's critical that the individual developers responsible for creating the miles of code be empowered with the proper tools to do their jobs effectively.
Microsoft understands the need as much as any company with developers building on top of their platforms able to reach over 500 million Windows 10 monthly active users, 100 million commercial Office 365 monthly active users, and 12 million small, medium, and large organizational entities in Azure Active Directory.
Developers have an enormous opportunity to shape the future and Microsoft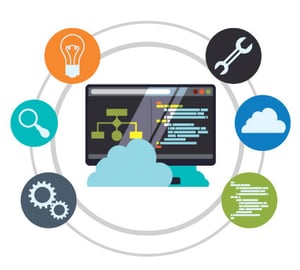 recognizes its responsibility to empower these individuals and amplify their capability and ingenuity with technology. Microsoft wants to use advances in technology to make it possible for more people to benefit from computing and for more people to participate economically in our society.
By constantly innovating, developers are always pushing the boundaries and evolution of platforms. As a result, today's mobile-first, cloud-based environment is evolving to a new world of intelligent cloud and an intelligent edge.
Microsoft is focused on three key areas in their efforts to empower developers.
Multi-device
We have moved into a world where people are no longer anchored to a single desktop computer to one where in a typical day, users switch back and forth from business to personal use, accessing their smartphones, laptops, and tablets. Businesses are also leveraging multiple devices thanks to the omnipresence of sensors and IoT devices.
Developers must have platforms that connect all these devices and address new capabilities such as speech, vision, ink, and touch.
Artificial Intelligence (AI)
AI is quickly expanding the universe of knowledge available to developers enabling them to reason over that data and turn it into knowledge. This vast pool of data is being crystallized by this infinite capacity and being distributed to the edge.
The enormity of this data has weight and developers will more readily move computational power to take advantage of it. The intelligent cloud will play a critical role in this evolution
Serverless Computation
The move to virtual environments is ushering in the world of serverless computation which allows developers to focus on building great apps without worrying about provisioning and maintaining servers for growing workloads. Microsoft is making it easy for developers to build rich, serverless scenarios by capitalizing on a range of Azure and external services. In a world where developers want to invoke functions and write them in response to events, serverless computing is changing the nature of these distributed applications.
This combination of multi-device, AI everywhere, and serverless computing is driving a new era of intelligent cloud and intelligent edge and providing developers with the tools to keep driving innovation. Click here to discover how DynTek can help you better leverage the Microsoft Azure Cloud.
[1] The Coming Software Apocalypse, by James Somers, The Atlantic, September 26, 2017.