3 Key Issues for Business Transformation in the Cloud
A CIO Guide
The benefits of the cloud have been well documented. Reducing costs of capital infrastructure, providing scalability to match ongoing growth or spikes in activity, having the ability to stay current with the latest technology, and paying only for computing power consumed combine to make cloud computing an attractive option to organizations of all sizes.

While the move to the cloud started as a cost savings strategy, it's evolved into much more than that in recent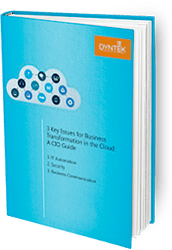 years. Forward thinking companies and software developers have discovered innovative ways to leverage cloud computing to transform their businesses. The cloud can drive competitive advantages both in the way companies interact with customers and employees. Those organizations that properly leverage the cloud will be best able to take advantage of a wealth of opportunities.
So where should today's CIO's focus as they consider how the cloud can transform their businesses?
Download this guide to learn more about the three key areas that should be the center of attention.