Training Services
Expand your IT horizons.
Empower Your IT Staff
Did you know DynTek can provide the technical staff training you need to maximize the effectiveness of the products you have in your IT environment -- and training can be conducted at your facility or almost any location of your choice.

Technical IT training for your design, implementation, and support engineers is critical to the success of new product deployments, product upgrades, delivering high levels of support for your users, and insuring the maximum return on your product investments. Trained engineers are better able to manage the existing environment and utilize the capabilities of the products you have implemented to their fullest.
Diverse Training Opportunities

DynTek has joined with Global Knowledge as an Authorized Learning Partner. This learning partner designation enables us to offer our clients top quality training from the leader in IT and business training. Global Knowledge holds a reputation for exceptional education services and for delivering a student experience second to none.
Get everything you need for a complete training solution.
Complete training portfolio of more than 4000 courses with the most relevant and timely content.

Vendor training from industry leaders including Cisco, Microsoft, VMware, IBM, Avaya, and Citrix.
Training on the hottest technologies and trends such as cloud computing, cybersecurity, data center, networking and wireless, and virtualization.
Business skills training including project management, ITIL, Agile, Six Sigma, management and leadership, and business analysis.

Award-winning training taught by expert instructors with real-world experience.
Choice of convenient format, time, and location.
Largest schedule of Guaranteed Dates.
Custom content is also available for when you have unique or specific training needs.

View available courses

To enroll, please contact marketing@dyntek.com.
Citrix Authorized Learning Center
DynTek's Authorized Learning Center is based in Newport Beach, CA but services clients around the country

through satellite branches, customer facilities, and Instructor-led online learning. DynTek's CALC provides training for Citrix certifications and technical instruction for the installation and administration of Citrix products, including Citrix XenApp and XenDesktop software. Citrix recognized DynTek's training program for its high customer satisfaction, industry leading low class cancellation rate, and overall quality of its Citrix training program. DynTek is also closely involved with Citrix Education, helping them develop new, innovative courses, further improving the student experience.

>>View our Training Courses
Microsoft Learning Solutions
As a Microsoft Learning Partner, DynTek offers the latest catalog of Microsoft Official Courses covering a broad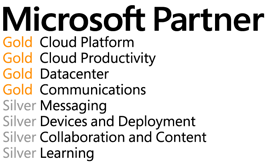 range of technologies including Microsoft Azure, Office 365, Intune, Exchange, Skype for Business, SharePoint, Windows Server 2012, System Center 2012 and SQL Server.


Training: On-site, Off-site, or from your home or office
DynTek offers authorized training courses in our state-of-the-art training center in Newport Beach, California and other training facilities throughout the country. We can also bring the classroom to you: we provide computers, courseware, instructor, and expertise - all we need from you is your engineers and a desire to learn. The ability to conduct classes at your facility may be highly desirable since you keep your engineers at home and eliminate the expense of travel and time away from the office. We have recently introduced AttendAnywhere, a new training delivery model that allows students to attend classes remotely, eliminating travel costs. All the student needs is a PC and a high-speed internet connection – we provide everything else.
You have many options when it comes to training. It is important that you chose the best resource to satisfy your training requirements. We believe DynTek is that resource.
Contact Us
To learn more about our solutions for your training requirements contact your DynTek Account Executive or:
Donovan Pearman
donovan.pearman@dyntek.com