Business Strategy. Technology Solutions.
Aligned.
Optimizing Your Enterprise Through The Convergence Of Business And IT Strategy.
DynTek holds the highest-level medallions from the tech industry's biggest names – from the desktop to the data center.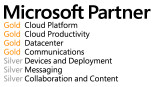 Rick Moore, Director of IT, RTC of Southern Nevada
"DynTek has been an integral part of our team for many of our technical projects, including: design assistance of our Cisco enterprise LAN/WAN, Cisco VOIP implementation, VMware virtualization environment, disaster recovery/business continuity site, Microsoft Active Directory maintenance, Microsoft SharePoint implementation and Citrix deployment. It's been a great relationship so far, and we look forward to continuing it for many years."
Upcoming Events & Classes
vSphere Optimization Assessment Workshop - Newport
July 23, 2015 - 8:30 a.m. to 11:30 a.m.
vSphere Optimization Assessment Workshop - San Diego
July 30, 2015 - 9:00 a.m. to 12:00 p.m.